If You Had It to Do Over Again, What Would You Change?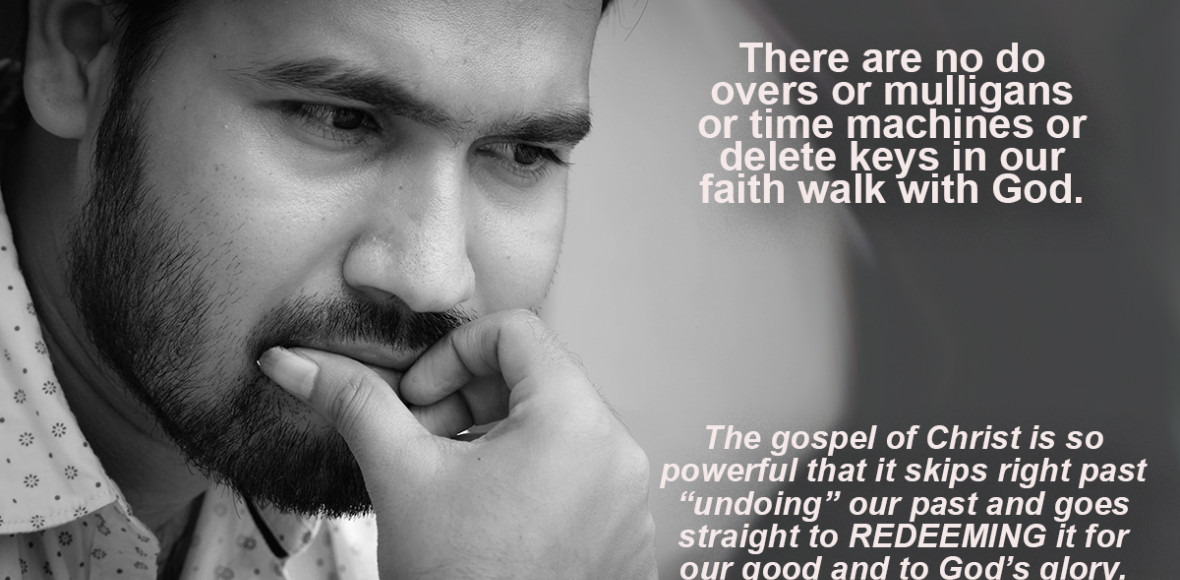 Regrets are part of life on planet earth. And that begs this piercing question that came to me this morning in my year-end FAITH INVENTORY: "If you had it to do over again, what would you change? Would you 'undo' the worst mistake you ever made?"

Every believer has actions in their past they would change. It might be:
Our role in a failed relationship.
Something we did to alter our mind.
A misguided and poisonous line we uttered.
Something we did that wounded another person.
A click that took us into the dark den of depravity.
Poorly performing a role as parent or friend or employee.
The reality is that every Christian must live with mistakes and misgivings. There are no do overs or mulligans or time machines. No undo key or delete key in life.

So how do we get past our regrets and find a glint of hope in the past?

JESUS.

"Therefore, there is now no condemnation for those who are in Christ Jesus…" Romans 8:1

The gospel of Christ is so powerful that it skips right past "undoing" our past and goes straight to REDEEMING it for our good and to God's glory.

My go-to example is the Apostle Paul who persecuted Christians:

"Christ Jesus came into the world to save sinners—of whom I am the worst. But for that very reason I was shown mercy so that in me, the worst of sinners, Christ Jesus might display his immense patience as an example for those who would believe in him and receive eternal life." 1 Timothy 1:15-16

I am thankful we can weep over our regrets and still find God's incredible peace and hope for the future.

A smartphone's GPS may cause a delay if we make a wrong turn. But if we pay attention from that point forward, the technology will take us to the destination. That is exactly what God does for us.

Don't forget that Satan uses our missed opportunities as a wedge between us and God. But God steps in to use our regrets and missed opportunities to show us—and others–his mighty power.

Dealing with regrets is an important step in our end-of-year FAITH INVENTORY.

I ask God to remind me that he is bigger than my lost opportunities. To strengthen me to believe that he can still get me to where I need to go and where he wants me to go.

WHAT ABOUT YOU?

What REGRET or MISSED OPPORTUNITY does God want you to release?

"Brothers and sisters, I do not consider myself yet to have taken hold of it. But one thing I do: Forgetting what is behind and straining toward what is ahead, I press on toward the goal to win the prize for which God has called me heavenward in Christ Jesus." Philippians 3:13-14

Hey, like this? Why not share it with a buddy?
Related Posts