Can't Find Your SPIRITUAL BREAKTHROUGH?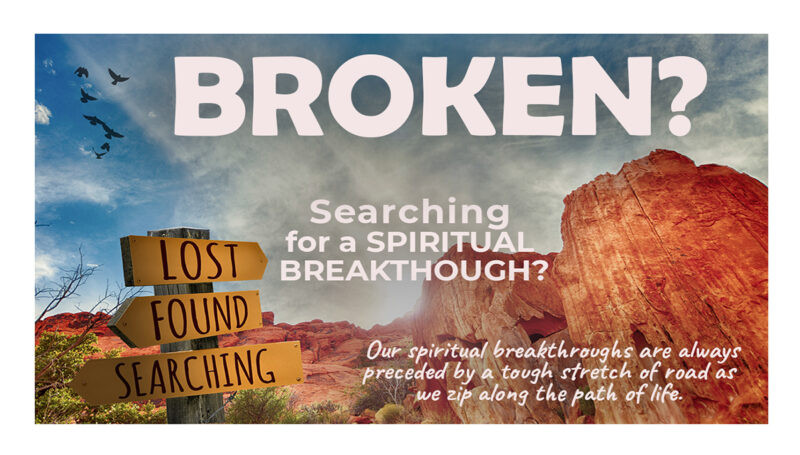 The launch of my new book "Activate Your Faith!" has stirred up much discussion about being BROKEN and needing a BREAKTHROUGH. Christians around the world are crying out through their brokenness and asking God to create a breakthrough that activates their faith. Praise God.
I am intimately aware of this BROKEN/BREAKTHROUGH CHALLENGE. I lived it early in my faith walk. Back then I had no idea that every Christian on planet earth: 1) Needs some kind of breakthrough at some point; and 2) God promises to help us through the barriers standing in the way. That is the BROKEN/BREAKTHROUGH TRUTH
BROKEN
"Make me to hear joy and gladness, let the bones which you have broken rejoice." Psalm 51:8
BREAKTHROUGH
"For the weapons of our warfare are not of the flesh but have divine power to destroy strongholds." 2 Corinthians 10:4
The need for a breakthrough could be in a damaged relationship, a family member with cancer, personal hang-up, habit or hurt, medical emergency, or some kind of financial crisis…to name a microscopic few from the seemingly endless list. That is the reality we get with life on earth.
That leaves us with this big question in our breakthrough quest: Where do I start?
My starting point begins with a pause to accept the inevitability of fierce blowback from Satan. This helps me embrace God's perspective that breakthroughs are always preceded by a tough stretch of road as we zip along the path of life.
In fact, Breakthrough Barriers are birthed by the enemy's opposition!
This approach helps me be resolute in my expectant belief and faithful prayer for a breakthrough, even when it looks impossible.
GO ON A BARRIER-BUSTING HUNT
Here's my Four-Step Breakthrough Barrier-Busting Plan: Pray; Stand; Believe; Act.
STEP ONE: PRAY
This is the imperative step in Breakthrough Barrier-Busting. The goal is to weaken spiritual opposition by bathing our breakthrough request in unceasing prayer that is specific, persistent, and expectant. Even when our prayer tank starts to empty, we need to stick with it because praying every day develops a "rhythm of faith" that gains strength with each prayer and repels our propensity to be pessimistic. To add even more strength to this step, I write down the journey's most important aspects along the way to stay positive by trusting God when discouragement raises its ugly head during the fight.
"Then you will call on me and come and pray to me, and I will listen to you." Jeremiah 29:12
STEP TWO: STAND
We need to stand up and take on God's strength in the early stages when barriers appear in front of our breakthrough. I am actually buoyed by this counter-intuitive thought–that we can be strong when attacked–because it means God is showing me that I am headed toward something significant. At this point it's time to build our strength in Christ because the opposition is about to start its nasty and calculated stealth.
"But you will receive power when the Holy Spirit has come upon you, and you will be my witnesses in Jerusalem and in all Judea and Samaria, and to the end of the earth." Acts 1:8
STEP THREE: BELIEVE
It is critical to believe that God knows everything about the breakthrough we seek and the barriers in its way. We need to focus on God's promise to show up in this difficult time and reveal his goodness and glory. Our role is to obey him and fully trust that he can pull off the impossible.
"Trust in him at all times, you people; pour out your hearts to him, for God is our refuge." Psalm 62:8
STEP FOUR: ACT
I learned the hard way that achieving a breakthrough goal does not happen by sitting on the couch waiting for a nice-and-tidy package to arrive. It's the opposite! God is waiting on us to step out in faith and expectancy. Taking this active stance bolsters our trust in God's supernatural power and puts us on the battlefield with him to be part of the process.
"For we live by faith, not by sight." 2 Corinthians 5:7
IT'S ALL ABOUT FAITH
In the end, busting the barriers in front of our breakthroughs is all about faith and trust. We need to trust God completely when we are seeking a breakthrough. We need to trust God through the predictable delays and denials that send shockwaves of discouragement through our soul.
HOW ABOUT YOU?
What breakthrough are you searching for today? Are you taking steps to find God's strength, believe, pray, and take action?
Hey, like this? Why not share it with a buddy?
Related Posts