How Can I Love Someone I Don't Even Like?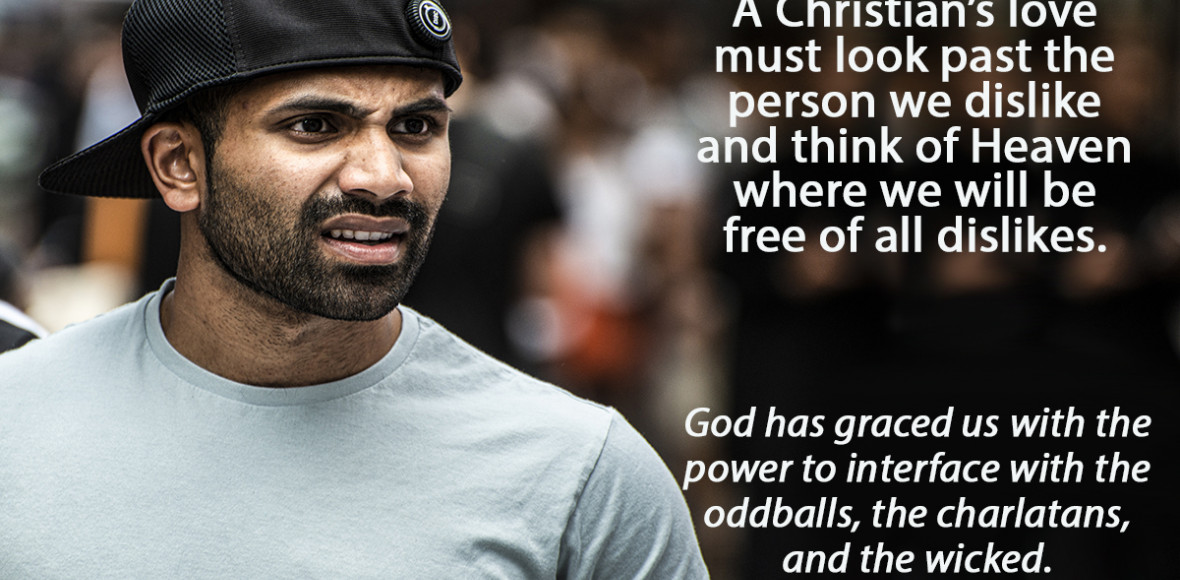 Yes, it's true…we are to love our enemies. Love the people we dislike. Love the unlovable. Christians and unbelievers. Deceivers and manipulators. Bullies and brutes. ALL OF THEM.
Our expression of God's love is not built on PERSONAL feelings and natural inclinations. It is embedded in his command: "Love your neighbor as yourself." Luke 10:27
This is not like picking players for our fantasy football team. We have NO CHOICE on who slides into our life's viewfinder or who needs help or who needs to meet Jesus and hear his good news.
And that's the point! Otherwise it would not be God's love. 
Jesus even turns up the heat a couple of clicks by telling us to love those who we would never love—that would be our ENEMIES (Luke 6:35).
A Christian's call to love is clearly different from how it plays out for unbelievers. The love and affection unbelievers have for people usually comes with a "catch" that seeks something in return.
For Christians, on the other hand, God calls us to love unequivocally, unconditionally, and require no reciprocation.
A Christian's love must look past the person we dislike and gaze up to heaven where we will be free of all dislikes. And we can do that because God has graced us with the power to interface with the oddballs…the charlatans…and the wicked.
Remember, ALL of us are HARD (if not impossible) to love! And every believer is called to love those who are hard to love. Keep in mind that these "tough-to-love" relationships are often a blessing because they move us closer to Jesus.
God wants us to be thankful for our enemies.
"If your enemies are hungry, feed them; if they are thirsty, give them a drink." Proverbs 25:21
Our sinful nature revolts at the thought of loving our enemies…but God says DO IT. We want to withhold love from our offenders…but God says DO IT.
Jesus gave us two commandments that tower above everything–love God and love our neighbors. That second directive includes our enemies. Showering our enemies with kindness allows us to put his amazing love and strength on display for everyone to see.
I ask God to give me the strength to embrace the people I dislike. To pray for the people I dislike. To love the people I dislike. To help me fight off my default nature and love those who have wronged me.
WHAT ABOUT YOU?
Who do you dislike? What was the last thing you said to that person? Is there someone who wronged you that is a blessing in terms of moving you closer to Christ?
"Love the Lord your God with all your heart and with all your soul and with all your mind and with all your strength. The second is this: 'Love your neighbor as yourself.' There is no commandment greater than these." Mark 12:30-31

Hey, like this? Why not share it with a buddy?
Related Posts