YOLO And NetFlix Are Ruling The World!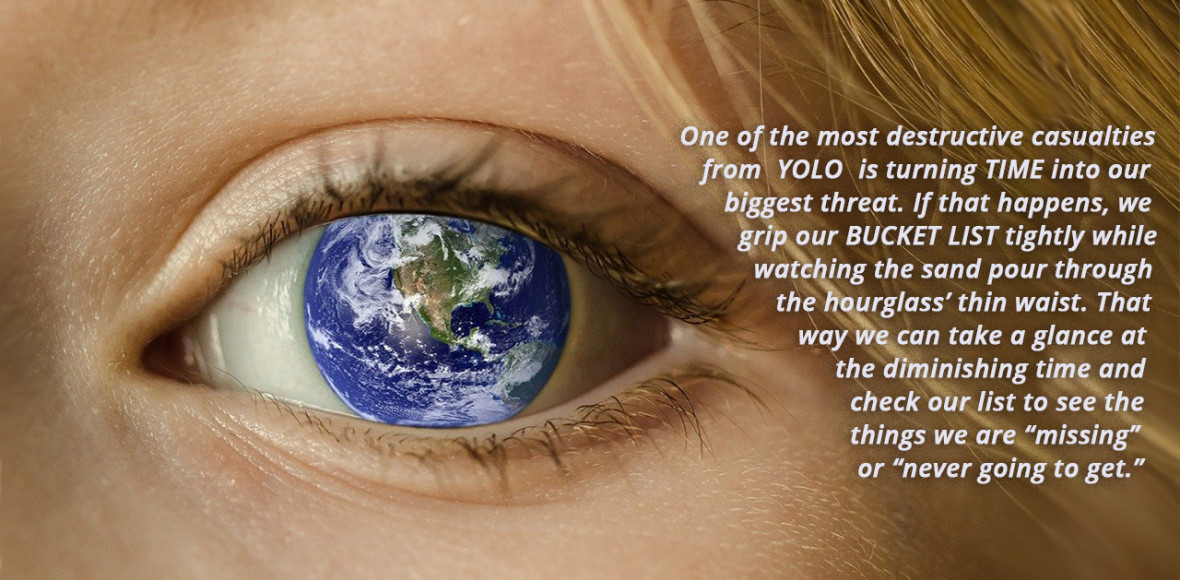 Here are three of the most popular lines used by Millennials:
"Sorry, Not Sorry."
"Let's Netflix and Chill."
"Avocado Toast Beats A Mortgage."
But the most pervasive thread running through that generation is the pop-culture idiom YOLO—You Only Live Once.

AVOCADO TOAST may have an exclusive connection to Millennials, but they do not have 100% ownership of YOLO. Their co-owners include those consumption-addicted Boomers and Generations X,Y, and Z. That's basically everyone on the planet right now in the 21st Century!

YOLO has captured the world's heart with the tyranny of the urgent and its demand to "deal with the consequences later." The resulting fall-out is a palpable sense of desperation to extract EVERYTHING out of our ever-shortening days and opportunities.

But YOLO is the same ancient and DURABLE LIE with a new name from the same Enemy trying to lure us into his den of sin.

One of the most destructive casualties from YOLO is turning TIME into our biggest threat. If that happens, we grip our bucket list tightly while watching the grains of sand pour through the hourglass' thin waist. That way we can glance at the diminishing time and check our list to see what we are "missing" or "never going to do or get."

It doesn't take long before we are taken hostage by the conniving corruption of "carpe diem" choices. Satan would like nothing better than to distract us with our selfish bucket list of desires which eliminates any chance of becoming a servant and guarantees that we will demand to be served.

Here's the part of YOLO that every Christian SHOULD embrace:

Time is short and that should inspire us to make the most of our life on earth by holding the world's stuff lightly. At the same time we must recognize the fleeting and precious nature of every moment that slips away forever when the sun escorts the moon into full frame every 24 hours, day-in and day-out.

I ask God to keep me focused on HIS version of YOLO and use it as inspiration to know my purpose and live it out with everything I've got, day-in and day-out.

WHAT ABOUT YOU?

Will your life mean something beyond experiential consumption?

"If I fought wild beasts in Ephesus with no more than human hopes, what have I gained? If the dead are not raised, "Let us eat and drink, for tomorrow we die." 1 Corinthians 15:32


Hey, like this? Why not share it with a buddy?
Related Posts