Have You Been FLIPPED OVER by Prayer Lately?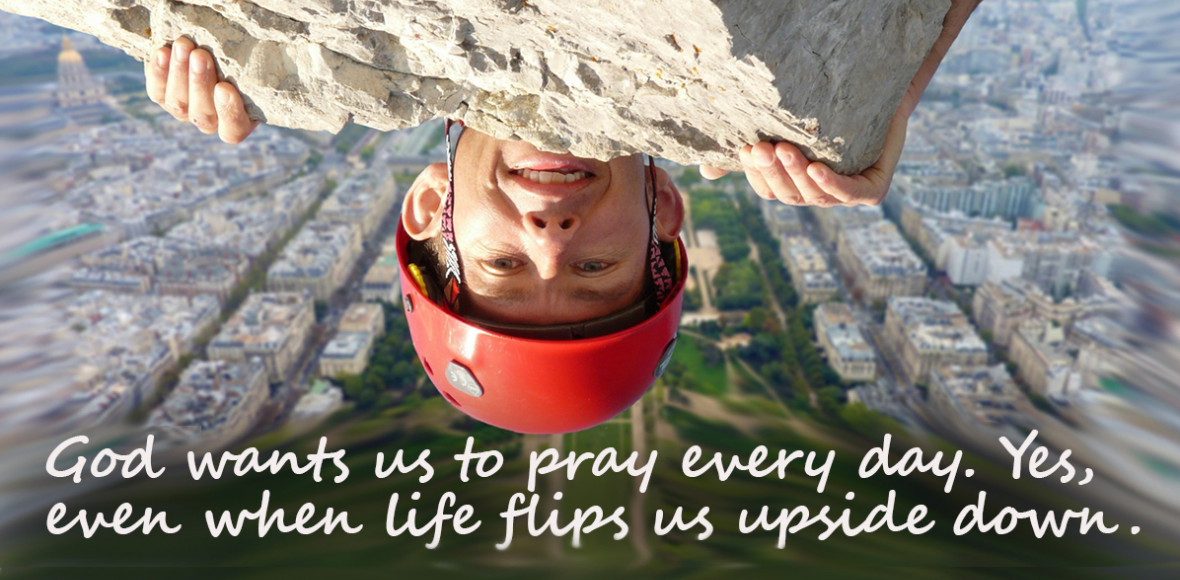 I got FLIPPED OVER yesterday while praying for this ministry. I'm not sure why yesterday's prayer time was different for me. I pray every day for all of you and ask that God give you the strength and wisdom to follow him with everything in your heart, mind, and soul. But answering that question about why yesterday's prayer time was different than others does not matter.
We will ALWAYS be in the dark about what God will do when we show up for prayer. But we do know with certainty that he hears our prayers every time, even if we don't know in advance what his answer will be. And that's OK because our faith is all about trusting him completely, right?
My prayer time yesterday was palpably powerful across myriad fronts. So powerful, in fact, that it took my breath away. I knew about the power of prayer going into my quiet time with God, but I emerged from it with an enlightened and enlarged appreciation for God's mandate for us to pray continually as Paul taught the Thessalonians:
"Pray continually" (NIV); "Pray constantly" (HCSB); "Never stop praying" (NLT); 1 Thessalonians 5:17.
That blessing was for me to be sure. But God doesn't bathe us in HIS glory to only make us feel good (though he definitely wants that). He does it so we will TELL OTHERS!
So I'm going to tell you and Love God Fear Nothing's 1.53 Million-strong online tribe right now.
I have been praying consistently and continually for wisdom on how to live my life as a believer and how to lead this ministry. Praying for strategic breakthroughs. Relational breakthroughs. And program breakthroughs that would enable the ministry to reach millions of people for Christ.
It became crystal clear early in my quiet time yesterday that God has been answering all of those prayers in his time and in his own way. That powerful realization showed me why it's IMPERATIVE to show up for prayer CONTINUALLY and to pray without ceasing. If we do that, we can stay on top of what he is telling us. Where he is leading us. And how he would have us live our life on earth serving his Kingdom.
That truth is powerful on its face, of course. But the real power for me came to light when I harkened back to earlier times when success in these areas looked doubtful, if not impossible. The takeaway here is simple, yet life-changing:
God wants us to pray every day through both the positive and negative winds blowing through our life. Yes, even when life flips us upside down. WHY? Because PRAYER:
Shows us how to imitate Jesus.
Beams a light on our life purpose.
Builds our faith and spiritual muscles.
Equips us for the tests and trials of life.
Opens a two-way conversation with God.
We don't pray because we are "supposed to." God does not need our prayers…WE DO!
I want to pray without ceasing even when it seems impossible because through God all things are possible. If I can breathe, I can pray.
WHAT ABOUT YOU?
When was the last time you tapped into the true power of prayer?
"In the same way, the Spirit helps us in our weakness. We do not know what we ought to pray for, but the Spirit himself intercedes for us through wordless groans. And he who searches our hearts knows the mind of the Spirit, because the Spirit intercedes for God's people in accordance with the will of God." Romans 8:26-27
Hey, like this? Why not share it with a buddy?
Related Posts