American Dreamification: Who Can YOU Teach?

The world implores us to set our own course and live out the AMERICAN DREAMIFICATION lifestyle. A life that idealizes a NON-EXISTENT "fully-secure" existence. A life that looks for the stage and its accolades to fuel our power-starved ego. A life that is empty. (I know…because I lived it.) Here's the line you are expecting to come next:

God counters the AMERICAN DREAMIFICATION idea by teaching us to swap out those self-oriented plans for seeking his faith-fueled and purpose-driven will.

Yes! 100% true. But allow me to overlay a point on that truth:

What Can You Learn And Who Can You Teach?

Let's say you are a Christian who gets past the empty allure of AMERICAN DREAMIFICATION. And then you realize God wants you to seek his purpose-driven will for your life. GREAT!

So what's next? Back to your goals for life with nothing more than a new "find-my-purpose" attitude? Sure…but please consider these three steps FIRST:
Eliminate who you are NOT, first, and then decide who God wants you to be.
Emphasize spiritual growth over goals (let GOD show you your goals through an ever-maturing faith).
What can I learn and who can I teach?
If we do those three things, God will blow up our attraction to the AMERICAN DREAMIFICATION life. He will direct our life through our decisions. The aggregate of those decisions will compound over time to reveal GOD'S PLAN for our life.

That's good because it's extremely dangerous to expect God to deliver a "life blueprint" from some kind of "Big Bang" reveal. That approach pushes aside our trust in him like a Roller Derby superstar shoots past the next skater on the turn.

I ask God to help me accept his direction. Help me blow up my own view of the future and what it ought to look like. Help me trust in faith that he will set the GPS going forward. Help me see that he is moving me toward living out my purpose here on earth.

WHAT ABOUT YOU?

Out of 100%–what percentage of the planning for your future are you doing? How much is God doing?

"Many are the plans in a person's heart, but it is the LORD's purpose that prevails." Proverbs 19:21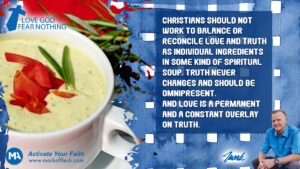 Hey, like this? Why not share it with a buddy?
Related Posts